Over memorial day weekend Ryan and Jodi attended KublaCon in San Francisco!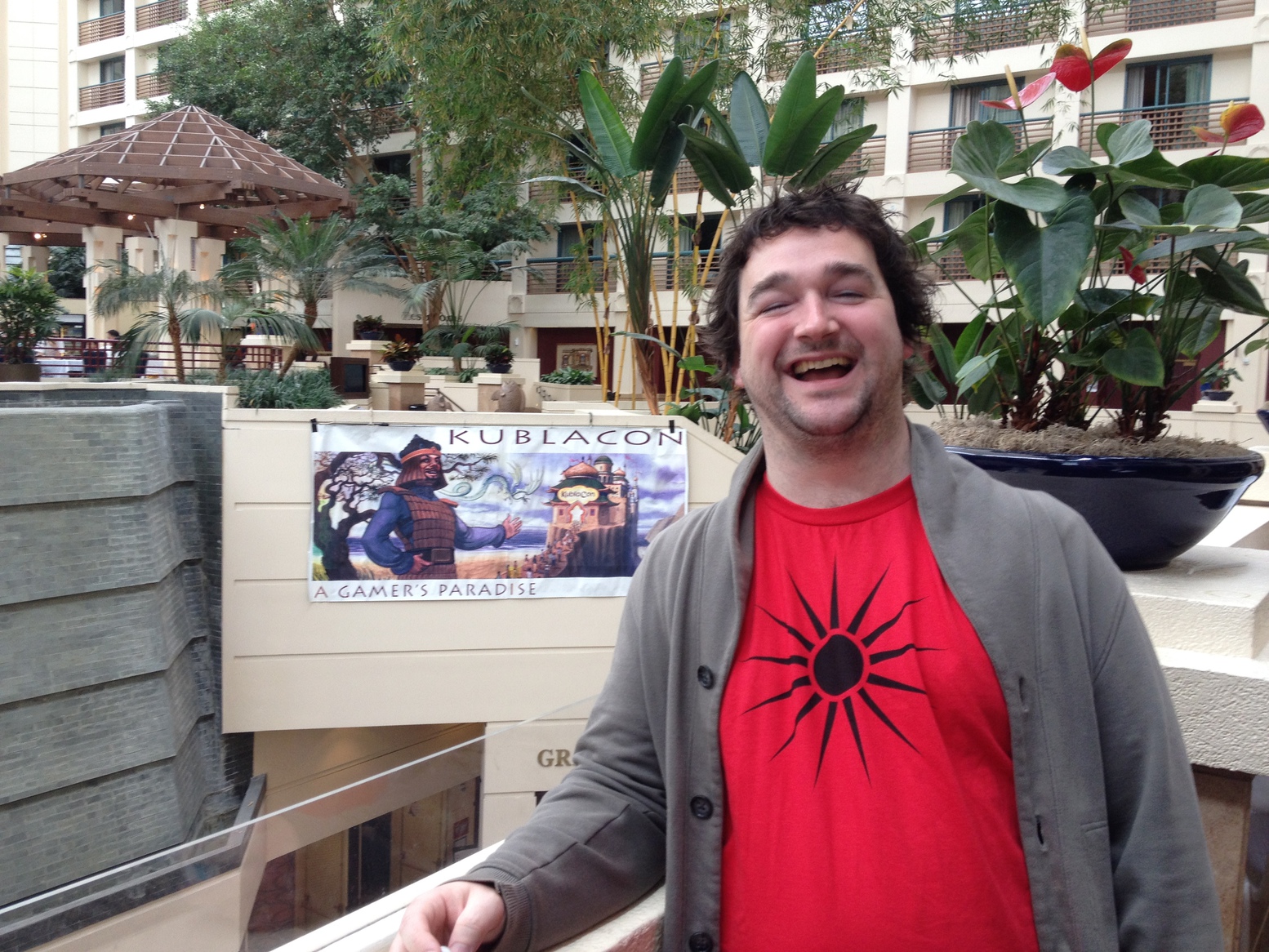 Sean was unable to make it, but he was there in spirit. Here he is on a fish.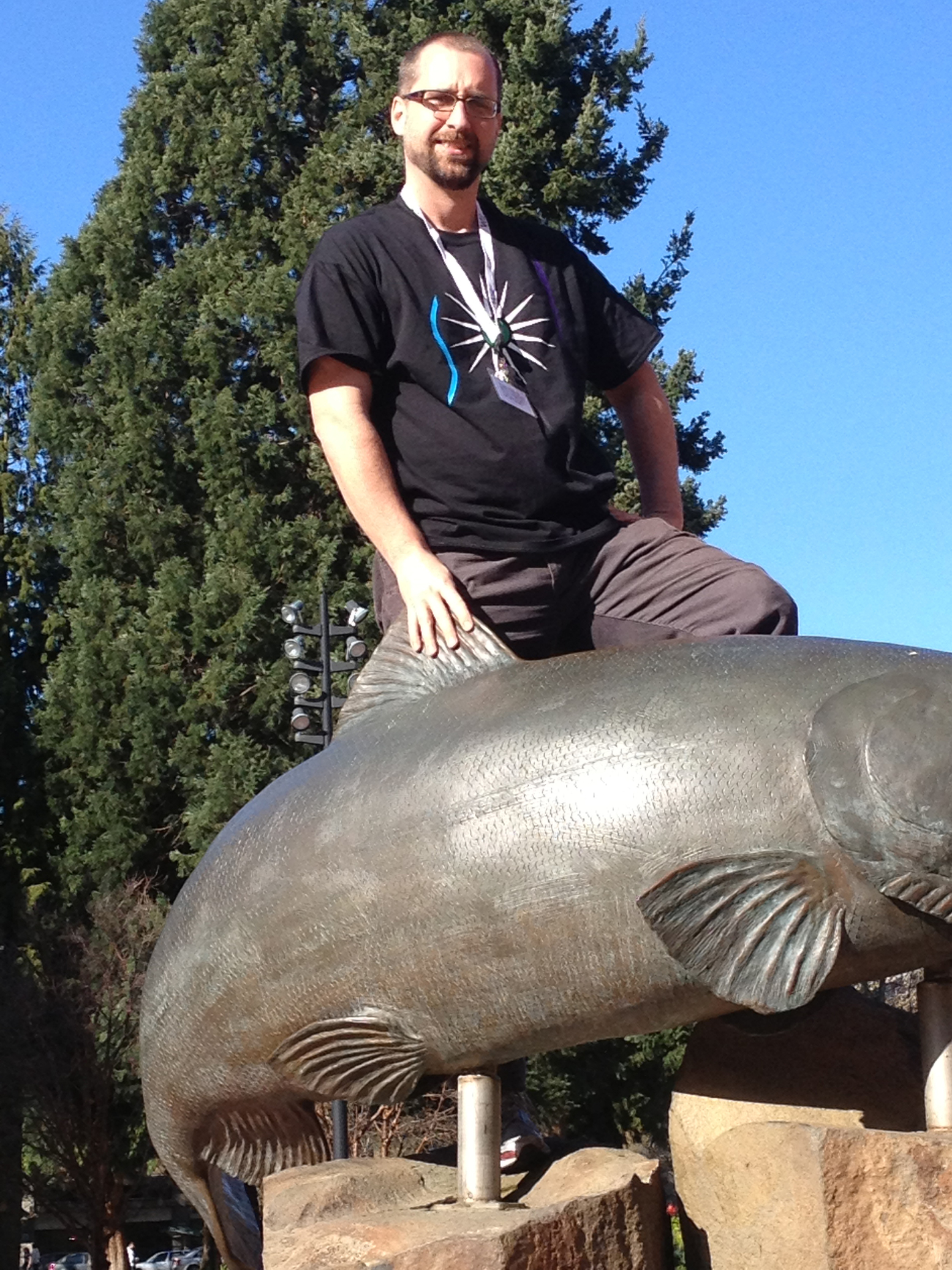 Trajectory
There is a contour to a large event like this. When we arrived at the Hyatt by the San Fransicso Airport on Thursday we took a moment to collect our wits and have some lunch in the sun and tree filled Atrium at the center of the hotel, a towering nine-story room bathed in natural light. No one had really shown up yet and the place was pretty quiet. We ate by the tranquility of a nearby fountain and reflected on this time of peace before a huge event. I thought how much I savored being immersed in this quiet full of potential before all hell breaks loose. When the event was in full steam I knew I would be too busy and caught up in things to fully appreciate what was happening, but here in the stillness of the pre-convention there was the pristine anticipation of things to come.
Then, as predicted, madness. Flurry of humanity. A blur of faces and outbursts and howling and joy. Trying to find tables. Setting things up, tearing them down, turning over cards, explaining rules, answering questions (so many questions!), flashes of color and geometry and sound. Seeing people we just met but who are already friends. Pointing at things. Gesticulating wildly. Shouting because I can't even hear myself. Shouting because I don't even realize I'm shouting. Stumbling around for food, still dizzy from games. Sleeping in fits. Shouting. Drinking Chartreuse because Jodi was smart and picked some up in town. Handing out t-shirts to enthusiastic cries. The sun exploding, over and over and over again. I love it.
Finally, before I even realized what was happening, suddenly the halls were empty. No people wheeling tubs of games around. No gesturing at pac-man tie-dyed shirts. No lines at the flea market. No tables upon tables of rioting color and sound. What happened? Siiiiiiiiiigh... what a great time!
Wait, I don't get to do this again next weekend??
Game Design Contest
We entered Sol into the KublaCon Game Design Contest, which turned out to be a pretty harrowing thing to do! After playtesting the 22 entries for a month beforehand, Anthony Gallela and his entourage of board game designers and industry professionals chose five games to be the finalists during the convention, of which Sol was fortunate enough to make the cut.
What this meant was that for four days all of the convention goers could blind playtest the game and offer feedback for the final judgment. I couldn't help or explain! I had a particularly painful moment where I witnessed a group of people suffering while struggling to figure out how to play from the cryptic rules I had previously thought were crystal clear. Wow, that hurt. Lesson learned there, thanks guys!
Despite those troubles, during an instructive and entertaining ceremony with all of the nervous candidates paralyzed with anticipation, Sol was awarded 2nd place! Anthony presented us with the esteemed Silver Kubla statue -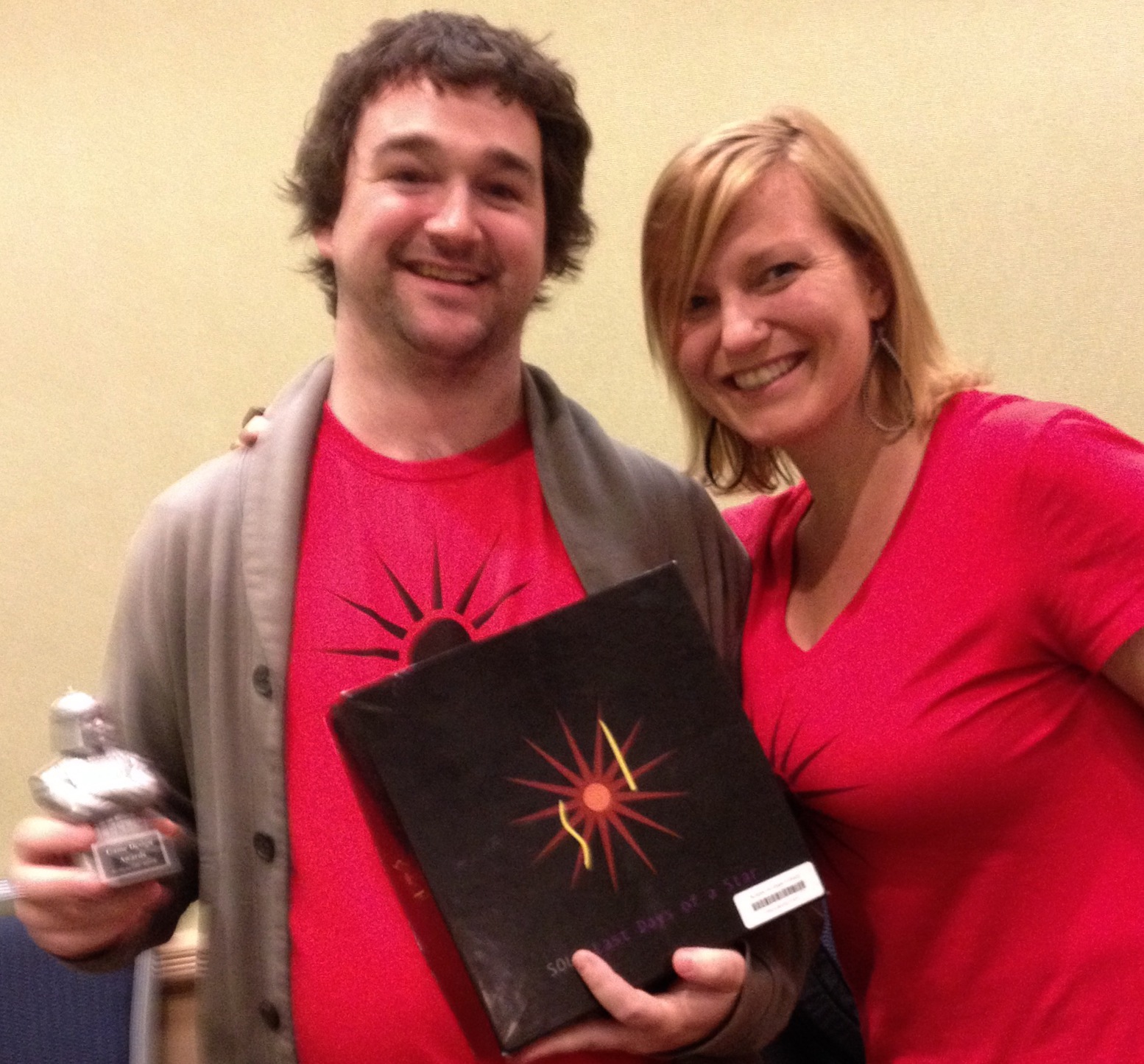 Ousted only by Vikings of Dragonia, which we admit, looks pretty cool. Of all games that could have possibly beat us, we feel pretty good about it. Congratulations Mach Brothers! Good luck in the Kickstarter (happening now, check it out)!
People
Here was a great game in the sunny atrium forest room with Jonathan, Tracy, husband and crew: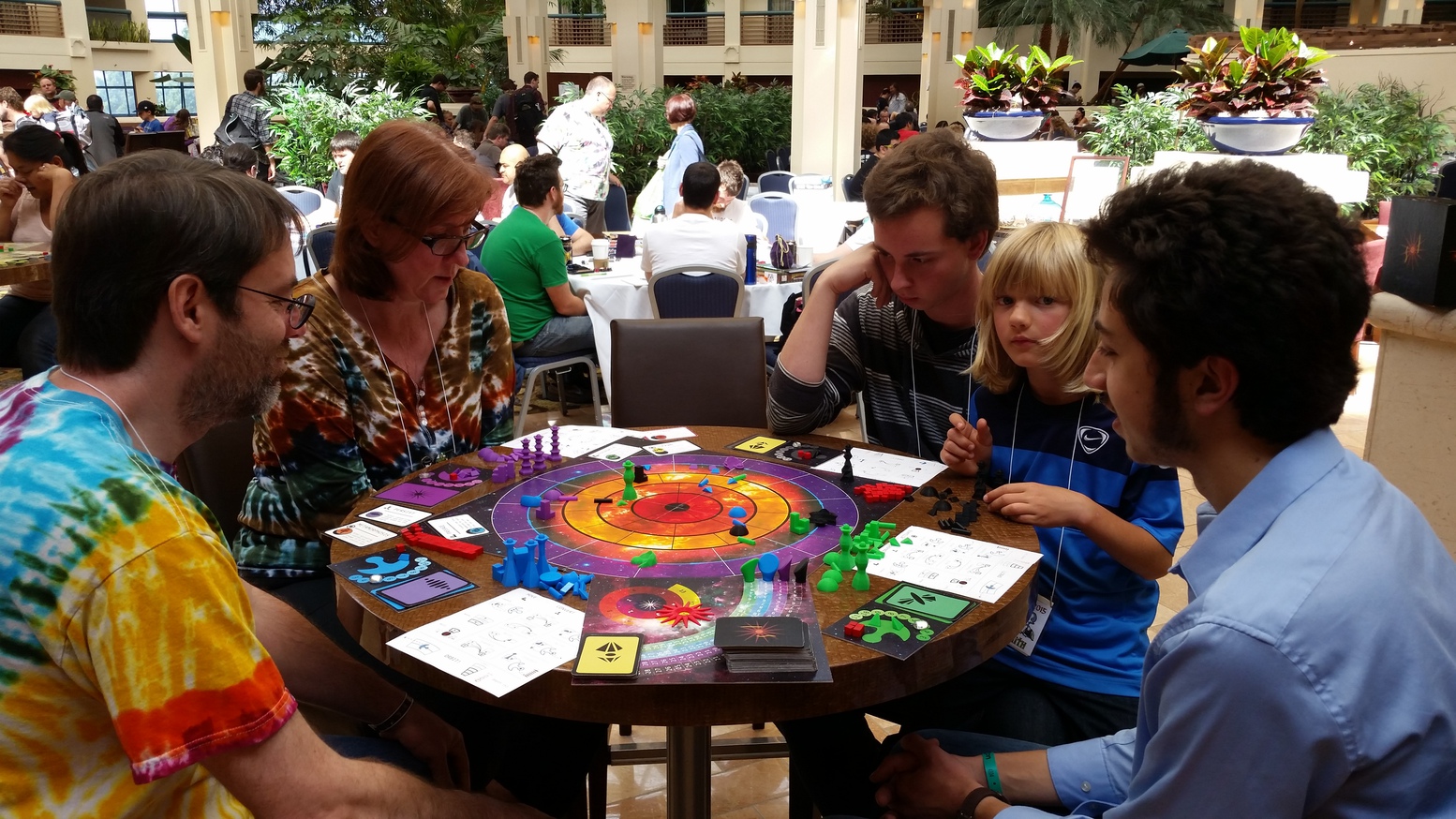 Later we played a rousing game of One Night Ultimate Werewolf at 2am, the best time to play ONUW.

Here was another great Sol demo in the bar area of the atrium: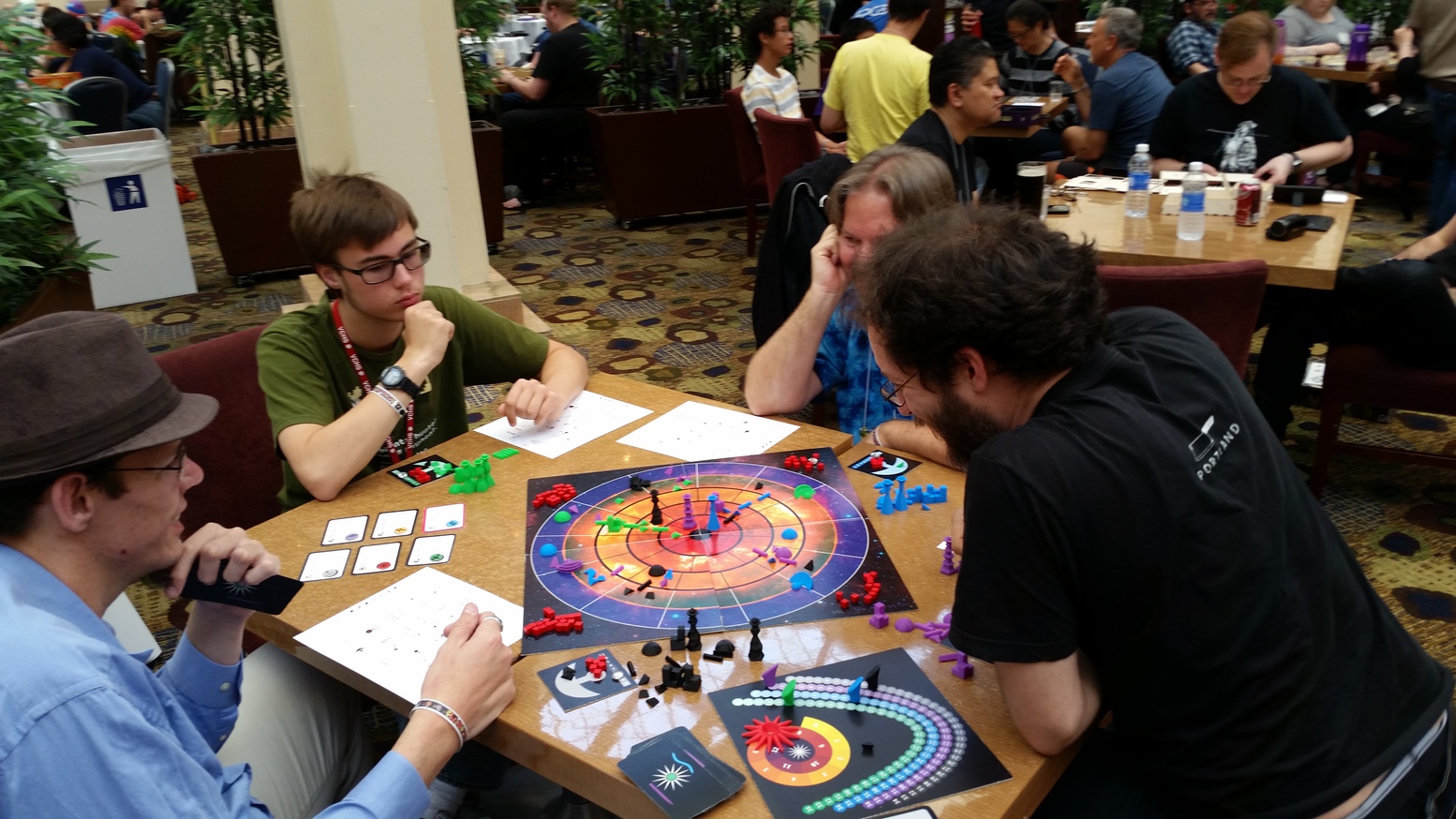 This was a tight scoring game with Robert, Noah, Paul and Darius, who were a total blast. The whole crowd was fantastic and friendly, one of the most festive events we've been to. It felt like we were constantly meeting new people we wished lived in the same town as us.
Here are some more down in the ballroom: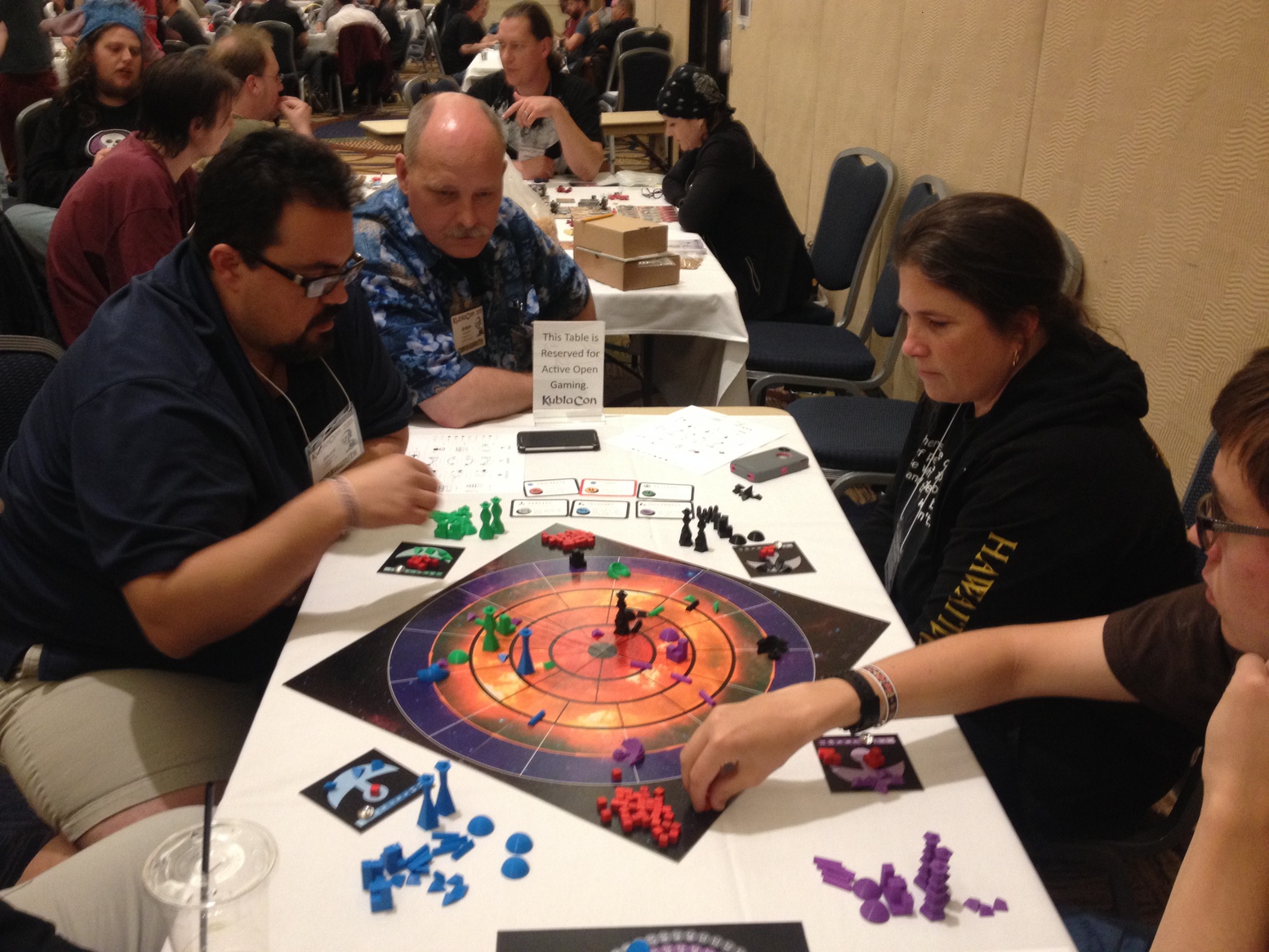 Steve and Kathleen were old college friends, and there is Noah again. How many times did you play Sol? Congratulations to you. I don't even think that guy in the blue shirt was playing, he just wandered in.
We also met these guys the first night we were there (some of the only people who were around Thursday night!)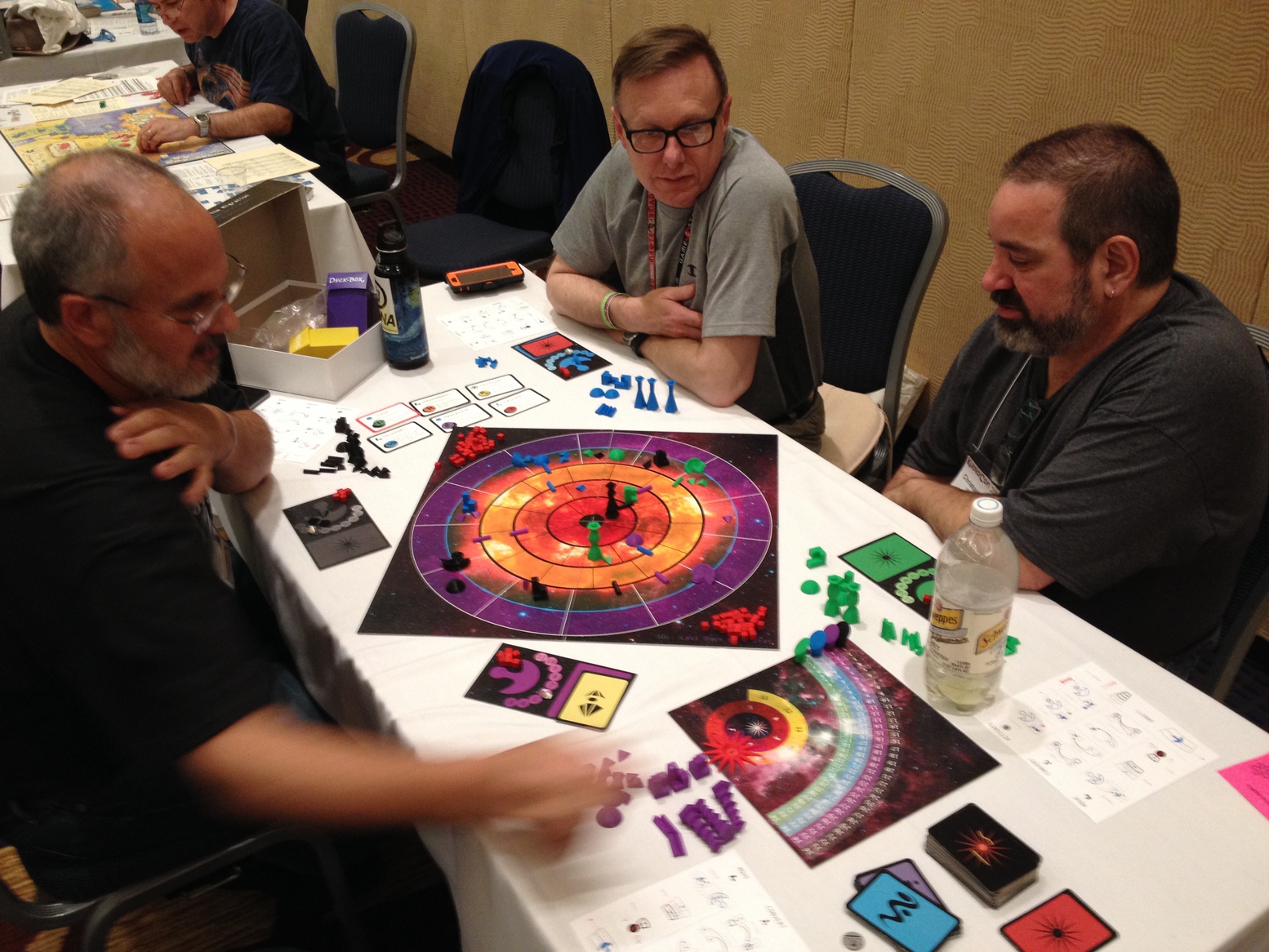 Patrick, Andy and Chris. They were our home base. Thanks again Chris for letting me borrow Glen More. Also, thanks to Chris and Andy for making me feel like my game collection was not actually out of control. 1200 games??? You win my friend.
Jodi hung out with the guys from Geekline -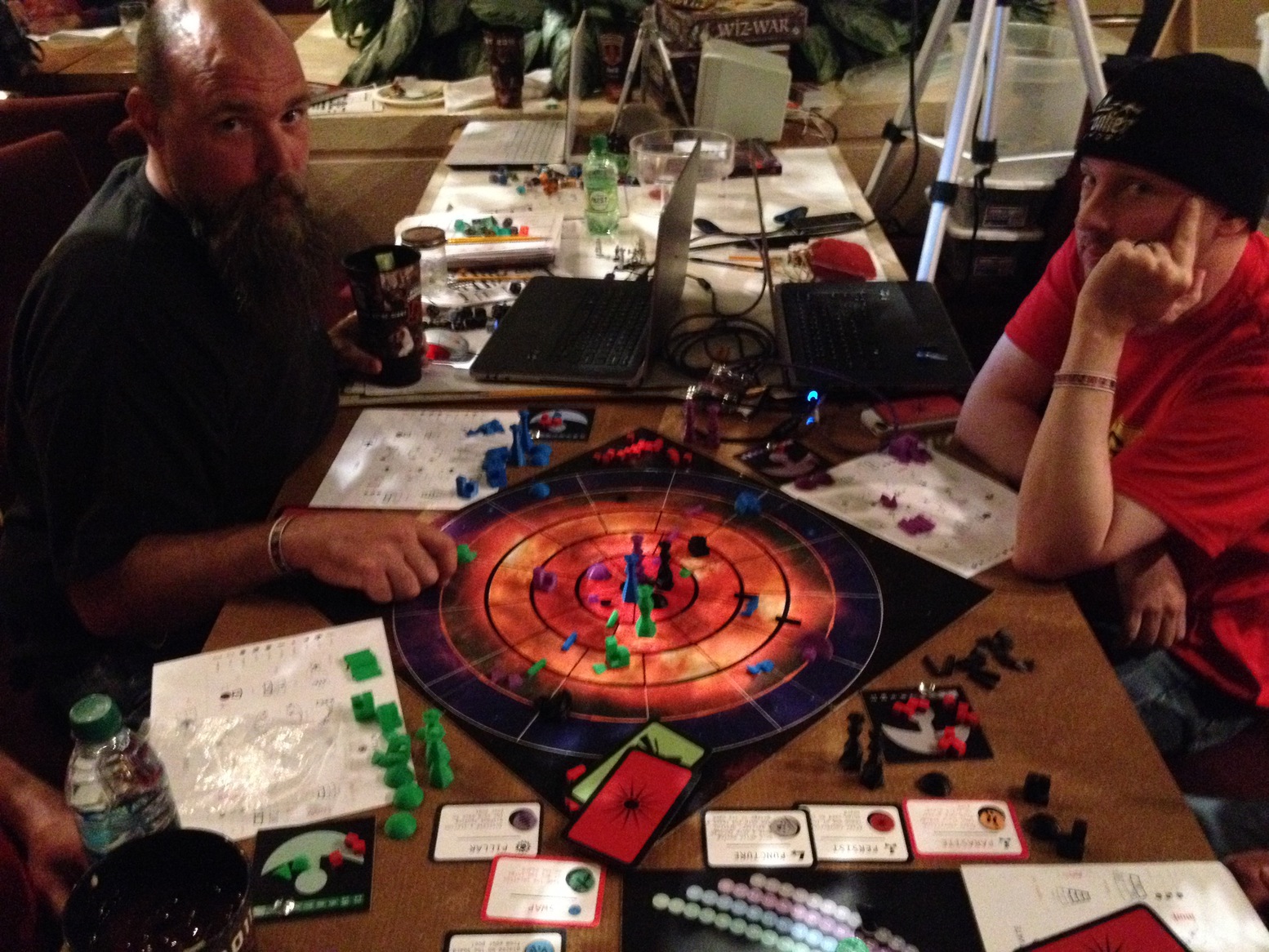 (Shane and Chad pictured here, John and Stephen out of frame). They had a bunch of great advice for us (when they weren't screwing each other over) and also invited us to be on their show. Thanks guys! Great to meet you, and looking forward to it.
Megan had the coolest elf ears of all the people that demoed Sol last weekend: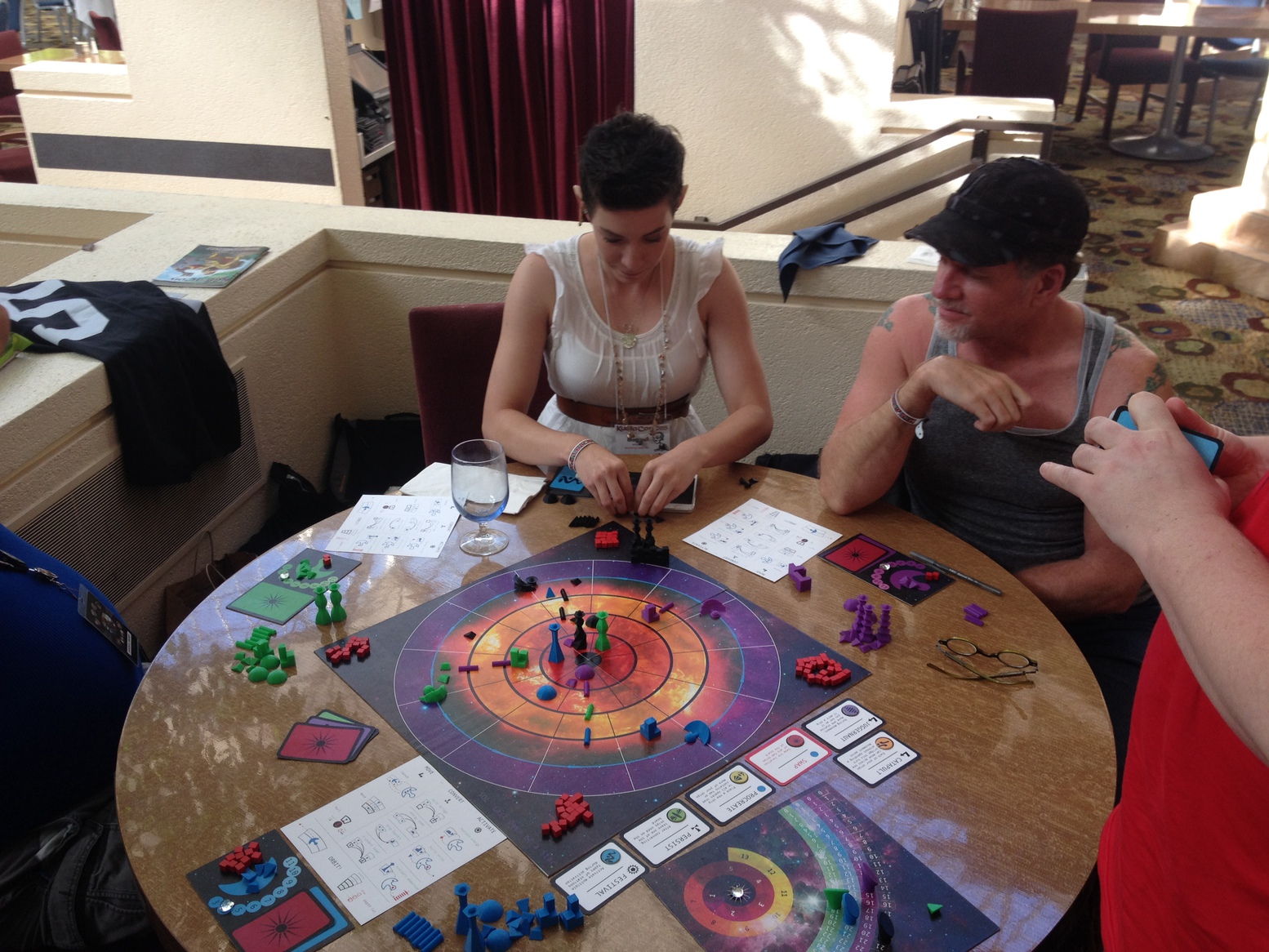 She also crushed the three older guys she was playing with. Well deserved!
There were some other key people that somehow we didn't get pictures of. Peter, Melisa and Kurt? Love you guys! Thanks for rocking our Sol t-shirts at the convention and beyond.

Kennith! Great to meet you. Thanks for all the awesome diagrams that clarify what the hell is going on in our info diagram. We are coming to the redwoods to visit. Count on it.
Thank you!
KublaCon 2015. What a blast. Thanks to all the great people we met down there and all the players who demoed Sol and gave us such positive feedback. Truly an unforgettable experience.

See you next year!